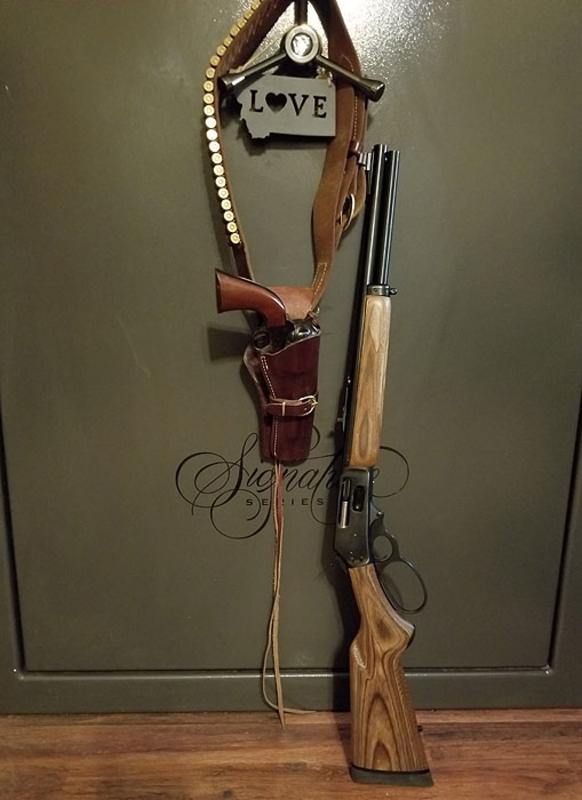 I got the opportunity to fire my new tractor gun (Marlin 1895GBL) and I'll get into that experience next. First I want to state that I fell in love with this rifle the moment my hand touched it. The fit, finish and overall craftsmanship are what I would expect in a rifle made by hand before the assembly line came along. It's absolutely wonderful to hold and to look at. But then, sooner or later, you gotta shoulder this rifle and shoot it and that's where the problem comes in. I'm not new to shooting or shooting big bores and I've owned and fired .45-70s in the past. But (and this is a big but), I'm getting older (I'm 49) and I find no pleasure in excessive recoil anymore.
My first mistake in shooting my new rifle was my optimism in loading a full magazine (325 grain LeverRevolution). I leveled off for the first shot at a cattle mineral block around 100 yards away and then I pulled the trigger. The good news is, I absolutely destroyed the mineral block. The bad news? I had to pick up my shoulder off the ground. The first shot showed me that the rifle is well sighted in already, and that's why I have no excuse for why I couldn't have hit the side of a barn at 10 yards with the following two shots. It was clear to me that I was anticipating recoil and am essentially afraid to fire my new rifle (as is). I absolutely do not regret the purchase, but I have to do something to tame the recoil or I'll never want to fire my beautiful rifle. My previous .45-70 did not recoil this excessively, but that rifle was much heavier than this one, and I was also 25 years younger than I am today. But I love this rifle and I want to enjoy shooting it.
It already has what feels to be a very nice recoil pad on the stock, but I'm going to order a Limbsaver and see if that makes much real world difference. I also want to add weight to this rifle and am seeking advice on how to best go about that. I thought about perhaps while the recoil pad is off, drilling into the back of the stock and filling it with lead. I don't want to hand load lighter loads or I might as well just carry .44 Magnum. What say you?